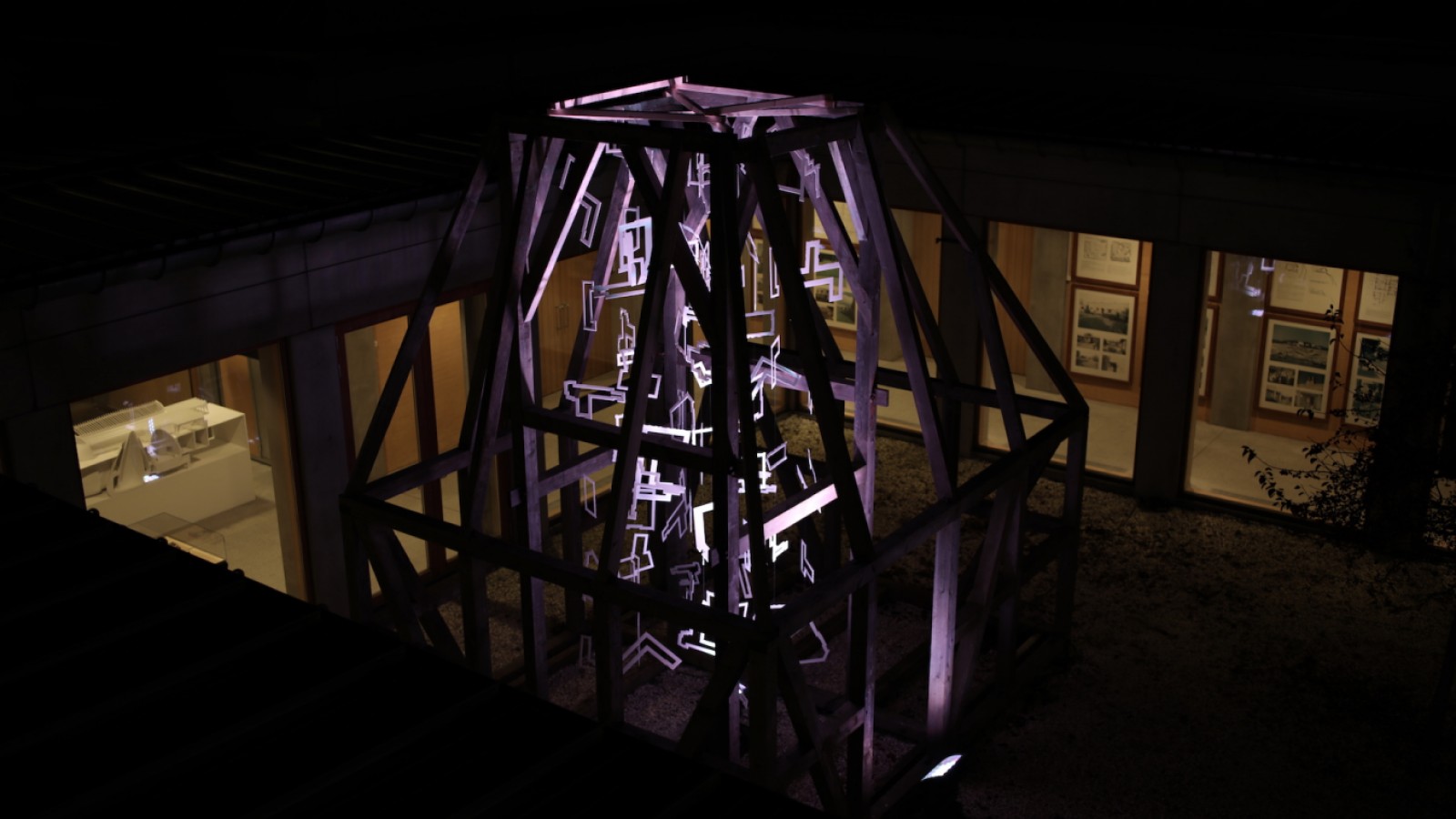 Plans for Christmas – installation by Praksis Architects
Dec 2nd 2017

to

Jan 31st 2018
Once again, Utzon Center is ready for the coming holiday season with a mind-bending architectural Christmas design. Illuminating the courtyard of Utzon Center, award winning Danish architectural firm Praksis gives us a stunning mix of architecture and Christmas in their installation 'Plans for Christmas'.
Suspended from the top of a wooden structure in the inner courtyard 70 floorplans from Praksis Architects buildings are laser cut in white acrylic glass. The thin crispy laser cut plans acts as snowflakes caught within the wooden structure in a ray of light slowly rotating and reflecting the light. The wooden structure is an old traditional building method for farmhouses in Denmark and Holland and forms the structural basis of the coming seaside Hotel 'Svinkløv Badehotel' by Praksis. A project exhibited at Utzon Center this summer.
"I think we as an architectural Center have an obligation to show that traditional holiday seasons like Christmas can be transformed into a spatial and aesthetic experience, without loosing the traditional Danish feeling of 'hygge'," says Utzons Centers director Lasse Andersson
Praksis Architects takes over from last year's designers from the World-renowned office SOM. It has become a tradition at Utzon Center that one of the exhibiting architects also design the Christmas installation.
Within one year in 2016/2017 Praksis Architecs founded by architects Mads Bjørn Hansen and Mette Tony have received all major Danish architectural prizes: Henning Larsens Honorable Prize, Nykredit Major Architectural Prize, Dreyer Foundations Honorable Prize and the Concrete Prize.
Download photos and videos of the installation at https://goo.gl/fTrAZH.

For further information, please contact:
Lasse Andersson, director, Utzon Center
+45 3199 1600 / laa@utzoncenter.dk
Mette Tony, founding partner, Praksis Architects
+45 2720 0578 / mette@praksisarkitekter.dk